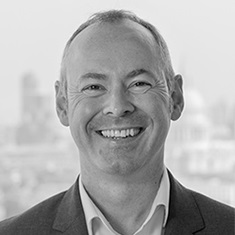 Gerry Dunphy, IFSEC & FIREX Brand Director, www.IFSECglobal.com

IFSEC, 19-21 JUNE, EXCEL LONDON UK, www.IFSECglobal.com

Major IFSEC Sponsors Also Discussed "In The Boardroom" On SecuritySolutionsWatch.com
We are honored to have Gerry Dunphy, IFSEC & FIREX Brand Director, join us "In The Boardroom" on SecuritySolutionsWatch to discuss this vital transformation of IFSEC into an integrated security event."
— Martin Eli, Publisher
NEW YORK, NEW YORK, UNITED STATES, December 28, 2017 /EINPresswire.com/ — NEW YORK, NY, USA, December 18, 2017 – Gerry Dunphy, IFSEC & FIREX Brand Director (www.IFSECglobal.com) told us, "We've been through a very long period, probably about ten months in total, where we've rigorously researched and gained deep insight into the attitudes and behaviours of the exhibiting vendors and also the visiting customers. What became rapidly apparent is that the world of security as a professional discipline is constantly changing as the threats to overall public and national safety evolve and increase. The security sector now is very different to that of 40 years ago and it's IFSEC's role to reflect the absolute state of the sector in the here and now, as well as a roadmap to the solutions of the future. An event such as IFSEC ( www.IFSECglobal.com ) needs a purpose and a theme in order to provide every stakeholder with a truly compelling reason to engage with the event. And that reason is the overall criticality of security and the fact that it's arguably the biggest challenge the world is currently facing.
This overriding theme gives an event like IFSEC its purpose: it becomes a destination where every single person with a commitment to professional security has a vested interest and a part to play. As a result of this collaborative approach to security, integrated and holistic approaches to understanding the threats and applying the correct technical solutions leads to a far greater integrated strategy. This applies to everyone- from the installers and integrators through to the end users and those with major national responsibilities.
In addition with IFSEC now focusing on how critical security is to our everyday lives, we have an opportunity to become the forum that sets the agenda and has the big conversation about confronting the challenges in making the word a safer place. The way to do this is through education and discussion and we're excited to elevate the learning aspects of the show to a much higher level than previously seen at an exhibition. We will be having a series of major strategic and thought leadership presentations and panel debates taking place in the centrally located Keynote Arena on the exhibition floor which will aim to inspire and transform the participants' approaches to the wider security issues. We will also be introducing a new programme called Show Me How which will address the education gap faced by installers and integrators. Many have told us that they want to be shown the future direction of security technology so the Show Me How programme will provide vendors with opportunities to demonstrate the capabilities of their products in real time and explain why the customers should be looking to use this equipment.
An additional key theme for 2018 will be the ever growing intersection between what has been considered to be traditional physical security solutions and the new expanding world of information security, primarily where integrated systems reveal cyber vulnerabilities. We'll be focusing on educating and inspiring visitors to be aware of their cyber responsibilities when working on integrated systems and making sure they're a key part of building in the cyber resilience. It is clear from our research that in the UK in particular, a section of installers have asked for us to help them understand this new challenge and how they can embed an improved cyber robustness into their projects. Therefore we'll be addressing this with a range of learning and demonstration opportunities on the show floor which will be pitched at an entry and more advanced level. We need to remember that IFSEC is not an IT event, it has a core security focus so our angle of approach is where cyber security and physical security converge and as a result, create security breaches. In the cyber v physical world, the key focus will centre on being aware of your own cyber responsibilities."
Mr. Dunphy added, "IFSEC has a long and proven history and of being the international security exhibition of choice. For over 40 years it has constantly reinvented its offering aligned to market trends, sought audiences from new disciplines and territories, and has been a truly global centre of expertise and guidance in security technology. Being located in London- one of the world's most influential cities- IFSEC has a gravitas and exposure to world leading customers which makes the visiting audience unique and exclusive to IFSEC. When we analyse who's visiting IFSEC each year, it's a truly dizzying array of leading customers from government, transport, utilities, banking (purely because of London), retail, communications, IT and the wider security trade. And remember, IFSEC is also co-located with a range of complementary UBM events such as Firex International, Safety & Health Expo, Facilities Show and Field Service Management Expo. This strategic blend of co-located events provides additional layers of interest and audience crossover which is of great interest to the exhibiting audience."
It's a veritable who's who in global security- we welcome over 90% of the world's top 30 security manufacturers- with major participants including Axis Communications, Honeywell, Texecom, Hikvision, Hanwha Techwin Europe, Dahua, UTC Fire & Security, Huawei Technologies, ASSA Abloy, Genetec, Avigilon, Milestone Systems, SALTO Systems, IDIS, HID Corporation, Vanderbilt, FLIR Commercial Systems…remember there are over 600 companies so this list could be exhaustive. The main thing to consider is the range of solutions and products on offer is vast and covers every aspect of maintaining a secure and resilient built environment, a fully functioning national infrastructure, protecting the world's assets and most importantly, its people."
For our complete interview with Gerry Dunphy: www.securitysolutionswatch.com/Interviews/in_Boardroom_Dunphy_Ifsec.html
For more information: www.IFSECglobal.com
***************************************************************************************************************
About SecuritySolutionsWatch.com
———————————————–
www.SecuritySolutionsWatch.com features thought leadership, content marketing, interviews about IT, IoT and security solutions. Our flagship "In The Boardroom" program, now in its 15th year, has delivered outstanding content about solutions from leading global brands such as: 3M, ASSA ABLOY, Cisco Security, Dell EMC, HP Cybersecurity, Fujitsu, Gemalto, HID Global, IBM, ImageWare, Intel, SAP, Siemens Security, Stanley Security, SONY Security, Yahoo, and Unisys just to name a few.
What's YOUR cybersecurity, physical security, mobility, payments, safety "smart" or blockchain solution?
We invite you to please join us "In The Boardroom" at www.SecuritySolutionsWatch.com.
For a quick tour to see exactly how your brand will be featured, please contact Ali Eng on our publishing team via email: ALE@SecuritySolutionsWatch.com, or phone: 1+914.690.9351 .
More details here: http://www.securitysolutionswatch.com/Main/ThoughtLeadershipOpportunity_July2017.pdf
Media Kit here: http://www.securitysolutionswatch.com/MediaKit.html
For SecuritySolutionsWatch.com content-marketing and lead generation offerings and services, please see our Rate Card here: http://www.securitysolutionswatch.com/Main/170502%20RATE_CARD-4.pdf
****************************************************************************************************************
It's FREE…our monthly newsletter with thought leadership content from leading security experts.
Please click here: www.securitysolutionswatch.com/newsletters/newsletter_2017_12.html
And please visit us on Twitter here: https://twitter.com/SecStockWatch
*****************************************************************************************************************
THIS PRESS RELEASE, AND ALL ADVERTISING, CONTENT AND ALL OTHER MATERIAL AND INFORMATION WHICH APPEARS ON SECURITYSOLUTIONSWATCH.COM AND/OR SECURITYSTOCKWATCH.COM, ONLINE AND/OR IN PRINT, IS SUBJECT TO OUR TERMS OF USE, CONDITIONS, AND DISCLAIMER HERE: www.SecuritySolutionsWatch.com/Main/Terms_of_Use.html.
Martin Eli, Publisher
SecuritySolutionsWatch.com
1+914.690.9351
email us here
IFSEC 2017 – Highlights of Day 1

Source: EIN Presswire